After watching Steve Jobs presenting the first iphone on television back in 2007, Congolese Genius Verone Mankou somehow discovered that the Iphone had no keyboard. That gave him the impetus to go and create a tablet computer or a bigger version of the iPhone to rival Steve Job's invention.
      Wondering how the 21 year-old African(Congolese) managed to accomplish this? Well… Mankou did alot of reading and research online, besides taking a couple of trips to Asia, China to acquire sufficient knowledge to implement his idea. In the end, Verone managed to create the first prototype of his tablet, which he named the "Way-C".
      Thanks to the aid of the Congolese government and a couple of other business men, The first 5000 Way-C tablets were manufactured two years later(2011) by Verone's company, VMK Tech.
        At first, these tablets though designed in Africa were actually manufactured in China given the lack of expertise and factories in Congo. In 2012, Verone's dream of creating an affordable smartphone manufactured in Congo, prompted him go on to manufacture the smartphone brand of his invention, the Elikia("Hope"), making the 29 year old the inventor of  the first-ever, made-in-Africa mobile phone, whose production factory was later launched by 2015 in Congo.
       As such, Mankou's dream comes true due his determination and hard work; as these smartphones and tablets are now manufactured in Congo, and are sold at relatively lower prices than those of the iphones of Steve-Jobs which he intended to rival.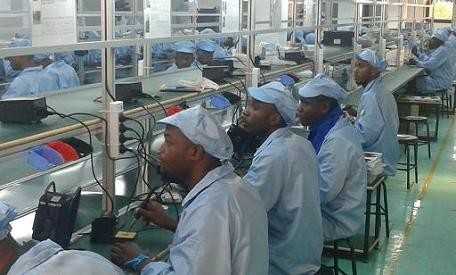 His company has since added other models to its range of mobile phones and has expanded to neighboring West and Central African countries.